How to make a quick post in Eagle Chat
Member Eagles have the ability to create new posts, like a Guest Book, into Eagle Chat.  For an example I'll show you how as I log in as one member, Abraham Martin, who posted an image on the NAA Facebook page.
Make your Title brief but descriptive as this becomes the name of the page later
Write your text inside the body field.
If you want to add a photo, click the Add Media button
Either Upload a new photo or choose one from the library if it was uploaded already
Choose the "Medium" size setting and left align if you want to place the photo at the beginning of your post and have text wrap around it.
Choose the "Large" size and either no align or left align if you want your photo to fill the column
Click Insert into post
Choose the "Eagle Chat" category and hit Publish
If you want to allow comments, check the allow comments box and then click Update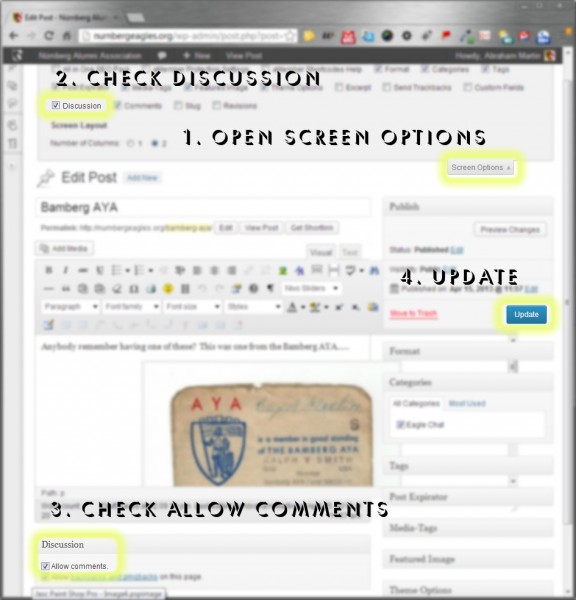 It is a bit more complicated than a Facebook post, but it has a lot more tools that I won't go into just yet.  Hopefully, this will be enough for folks to say a quick Hi and throw a photo up for now.
You can find the example above shown here > http://nurnbergeagles.org/bamberg-aya/
2 Responses to How to make a quick post in Eagle Chat