The 1970-1971 Nürnberg Eagles J.V. Men's Basketball Team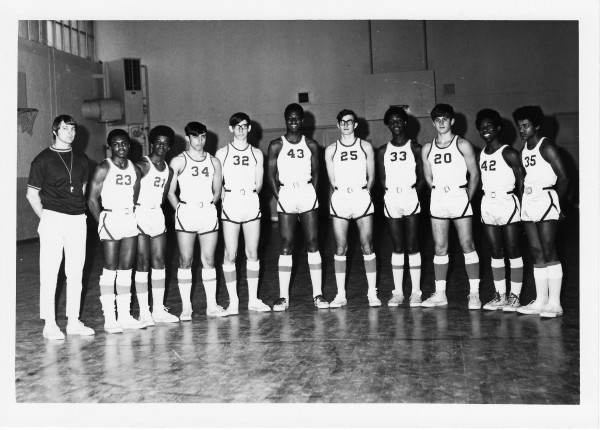 Conference Record: 12 Wins – 2 Losses   Returning Letterman from 1969-1970: None
Blue Division Conference Champions
The Nürnberg High School Eagles Junior Varsity Basketball Team opened the 1970-71 season by winning nine consecutive games before losing to the Mannheim J.V. 32-30 at home later in the season.  That loss was followed by a 68-56 defeat at the hands of Heidelberg, but the Eagles recovered the next day, posting a 59-48 victory over the Lions.
The Eagles began he season utilizing hot shooting, a relentless pressing defense, and strong rebounding to take a pair of games from Frankfurt.  Larry Flowers scored 20 of the Eagles 60 points on Friday, and Wally Knight led the team effort with 25 on Saturday.  
The following weekend, Larry Flowers scored 23 points on Friday and 28 on Saturday as the Kaiserslautern Red Raiders fell victim to a hot Eagle team that as gaining confidence with each victory.  Wally Knight contributed 14 points in the first game.
Nürnberg then rolled over Stuttgart twice at home before traveling to Wiesbaden, who was not able to slow down the Big Green Machine.  Flowers and Knight combined for 67 points against the J.V. Warriors.  John Covington and Mike Graf dominated the boards.  
After beating Mannheim at home Friday night, and running their win streak to nine games, the Nürnberg J.V. lost their first game of the season to the Mannheim Bison on Saturday by two points as mentioned above. The Green and White J.V. concluded the schedule with two wins in Munich to clinch the Blue Division Conference Title with a 12 win, 2 loss effort.
Flowers averaged 16.7 points per game with Knight adding 121. ppg during the season.
Expectations were high for the following campaign as the J.V. Eagles put together one of the most exciting and successful basketball seasons in the history of the school just outside of historic Nürnberg Germany.