The 1972-1973 Nürnberg Eagles Varsity Basketball Team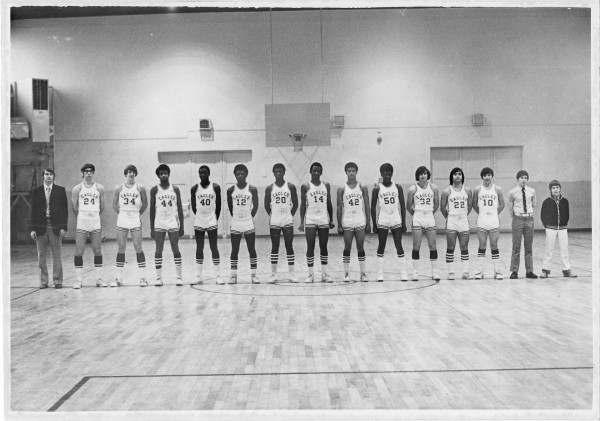 Conference Record: 1 win – 13 losses
Returning Letterman from '71-72: Dieter Bednarski, Sam Buster, Bob Crosby, Joe Houston
Blue Division Tournament: Eight Place
Lack of experience was the main concern as the 1970-1972 season began.  There was one senior among the 4 returning Letterman, and only two had extensive court experience.  Of the eight first year players, only two had junior varsity game time.
In the first weekend of play, Frankfurt had a distinct height advantage, but Joe Houston was fearless in his quest for 16 points on Friday night, Bob Crosby went to the hoop for 18 the next day.
Sam Buster lead the Eagles to their only victory of the year with 17 points en route to a 62-57 come from behind win in Stuttgart.  The Stallions won a see-saw battle the next day by eight points.
Strong Heidelberg and Kaiserslautern teams dominated the next two weekends, handing Nürnberg four consecutive road losses. Isaac Sapp hit 17 on Friday against K-Town while playing with his mouth wired shut as the result of a broken jaw.
Bob Crosby, Sam buster, Joe Houston, and Dieter Bednarski all scored in double figures at  home against Mannheim as the visitors took both close games.  The Bison's Dave Tuszynski scored with 4 seconds left in their 54-52 victory on Saturday.
After a long trip to Bitburg, the Eagles lost the first night by 6 despite double figure performances from Bednarski, Buster, Houston, and Calvin Palmer.  Bednarski led the team with 13 on Saturday.
Buster led the team in scoring totaling 11.6 points per game for the season, Bednarski was a close second at 10.8 ppg.  Houston and Palmer were the leading re-bounders.
Despite their win-loss record, all twelve players consistently showed courage and character in the face of adversity as displayed in Sapp's performance in K-Town.  The team continued their improvement with each game, and went to the Blue Division Tournament looking for more game experience and an eye towards next year. The ground work was being lain in terms of dedication and persistence for the successful teams which followed.