The 1973-1974 Nürnberg Eagles Varsity Basketball Team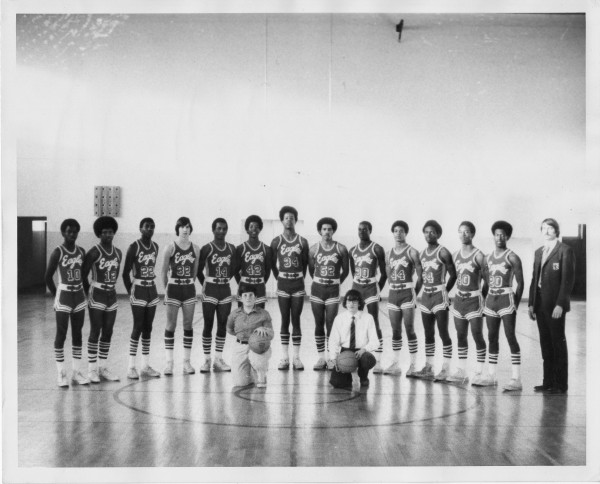 Conference Record: 6 wins – 8 losses
Returning Lettermen from '72-'73: Sam Buster, Joe Houston, Melvin Bivens, Joe Gilmore, Sparky Strother
Blue Division Tournament: Second Place
The Eagles started the season with two impressive victories over the powerful Wiesbaden Warrions in the big school Blue Division by scores of 69-63 and 54-53 as Ray White hooked in a last second shot.  White and Sam Hutton combined for 72 points in the two games.
In conference play, the final margin of victory was six points or less in seven of the 14 games including three one point wins for Nürnberg.  Defense and rebounding were key components in those exciting contests.
After losing two games to a strong Heidelberg team, and splitting a pair of close games in Bitburg, the Eagles traveled to Stuttgart the following weekend, losing 62-59 on Friday night. On Saturday, down by 5 points with 23 seconds to play in the fourth quarter, Nürnberg scored six unanswered points to win, at the buzzer by a score of 56-55 off. Sam Buster made a free throw.  Melvin Bivens stole the ball, scored on a lay up, was fouled, and added one from the foul line, Buster intercepted another pass and scored as time expired.
The home team swept Kaiserslautern, as Hutton and White dominated with 74 points for the weekend. At that point the Eagles owned a 606 record, but lost two games to Mannheim.  Buster had 15 points in each game.
Sam Hutton led the team in scoring during the season with a 14.3 average and was second in rebounds, while White was the team leader in rebounding and second in scoring at 11.8 ppg.
Sam Buster and Sam Hutton were named to the Blue Division All Conference Second Team.
In the opening round of the tournament, Nürnberg avenged the two early season losses to Heidelberg by upsetting the third seeded Lions 65-51. Hutton, White, and Buster combined for 47 points. In the semi finals, the Eagles surprised the unbeaten Lakenheath Lancers, who were the second seed, by 8 points. Backing up the scoring of Hutton, White, and Buster were Howard Fields, Sam Bailey, Joe Houston and Melvin Bivens with strong defense and rebounding.
Nürnberg had not been in the Blue Division Championship Games since 1963, but earned the right to play Mannheim (13-1) for he title with two stunning victories.  At the half, Mannheim led 26-22 in a closely contested game, but after a disappointing third quarter, the Eagles found themselves down by 13 points. The Bison claimed the First Place Trophy by a score of 62-48.
Sam Buster was selected by the coaches to the All Tournament Team.
One Response to The 1973-1974 Nürnberg Eagles Varsity Basketball Team